Comment on Tangled Up In Blue by Stephen O'Donnell (Book Review) by easyJambo.
JC and I attended the latest appeal hearing in the cases of David Whitehouse and Paul Clark's action against the Lord Advocate at the Court of Session earlier today.
Unfortunately today's proceedings had little to do with events following the administration and liquidation of RFC, but were focused on legal arguments about whether the Lord Advocate and his staff in the Crown Office (Advocate Deputes, Procurator Fiscals and Procurator Fiscal deputes) should have immunity against civil claims for damages.
The appeal was heard by the Inner House of the Court of Session with five judges on the bench, viz. Lord Carloway – The Lord President, Lady Dorrian – The Lord Justice Clerk, Lord Menzies, Lady Paton and Lord Brodie, so was close to the most senior bench available to the court.
Roddy Dunlop QC for Whitehouse and Douglas Fairlie QC for Clark argued that the case law needed updating to reflect the current situation.The current case law, which provides the Lord Advocate with virtually absolute immunity, was set in 1961 in the case of Hester v MacDonald. It was argued that only the USA and Scotland continued to offer such immunity, while England, Ireland, Australia, Canada and South Africa did not. There were references to cases in each of those jurisdictions which highlighted why the prosecutors should not be given blanket immunity.
There was half an hour at the end of the day when Gerry Moynihan QC, acting for the Lord Advocate started his submission on why immunity should continue. He made one very odd statement, saying that the immunity policy came into being in order to ensure that 999 prosecution staff acting in good faith should not be subject to claims because of 1 prosecutor who acted in bad faith.
It seemed a weak argument given that the 999 would not be subject to a claim if they indeed acted in good faith.
The hearing continues at 10:30 tomorrow (immediately following the announcement of the CoS decision on the merits of the appeal against proroguing of parliament).
I sensed from the interventions of Lady Dorrian, in particular, that overruling/updating the case law from Hester will be a difficult challenge, and that the case could end up in the Supreme Court.
Dunlop and Fairlie were keen that the case should go to proof (trial) so that the facts of the case can be heard in order to show malice and lack of probable cause by the Crown Office, as the alternative was that such immunity if confirmed would necessarily mean that there would be no remedy for a wrong.
easyJambo Also Commented
Tangled Up In Blue by Stephen O'Donnell (Book Review)
A couple of court cases next week that will be heard together by the Inner House
INNER HOUSE ROLLS
FIRST DIVISION
Tuesday 10th September
Summar Roll (4 days)
A293/16 Paul Clark v The Chief Constable of Police Scotland &c – Kennedys Scotland – Scottish Government
A295/16 David Whitehouse v The Chief Constable of Police Scotland &c – A & W M Urquhart – Scottish Government
---
Tangled Up In Blue by Stephen O'Donnell (Book Review)
wottpi 3rd September 2019 at 16:47
——————————————-
As you point out, politicians will always act in a way that they believe will appeal to their electorate and not pose a risk to continuation of their own elected position.
For info: The Bury CVA proposal indicated that HMRC was owed £1,158,850.45. HMRC voted against the CVA.
---
Tangled Up In Blue by Stephen O'Donnell (Book Review)
The EFL and its clubs appear ready to make up new rules as they go along in the Bury case.
https://www.bbc.co.uk/sport/football/49569697
The English Football League is to discuss Bury's future with its member clubs following efforts to reinstate the Shakers in League Two next season.

Bury were expelled from the EFL on 27 August after a failed takeover bid by C&N Sporting Risk.

Bury North MP James Frith has called for the Shakers to re-enter in the fourth tier for the 2020-21 season.

Meanwhile, Greater Manchester Police has said it is investigating an allegation of fraud involving the club.

No arrests have been made.

In a statement, the EFL says the "only current established procedure" for entry to League Two is promotion through the National League.

However, it added that "in acknowledgement of the extreme nature of the problems" at Bury, the EFL board had "agreed it is appropriate to discuss the matter with member clubs" and those talks will take place in the coming weeks.
---
Recent Comments by easyJambo
Celtic's Questions to Answer
Ex Ludo 18th November 2019 at 18:48
JohnClark@11.21
I presume Mr Antonov carried out due diligence into RFC and didn't like what was uncovered although RFC might have dodged a bullet too.
==========================================
Here's a selection of tweets from James Doleman during the Whyte trial about a potential sale of the club that fell through. (I don't know if this was the Antonov proposal)
Murray says he had a buyer in 06/07 but at the last minute "I pulled out of the deal" as "not in best interests of the club"
Murray says about potential buyer "I didn't agree with what they were going to do with the club" no other offers of note
Murray: decision to put club on market taken 06/07. Says had done due diligence on previous potential buyer but pulled out at last minute
Murray says previous buyer was doing a "property play, building flats on what I considered sacred ground, moving stands"
---
Celtic's Questions to Answer
HMRC's chief exec, Jim Harra has written to The Times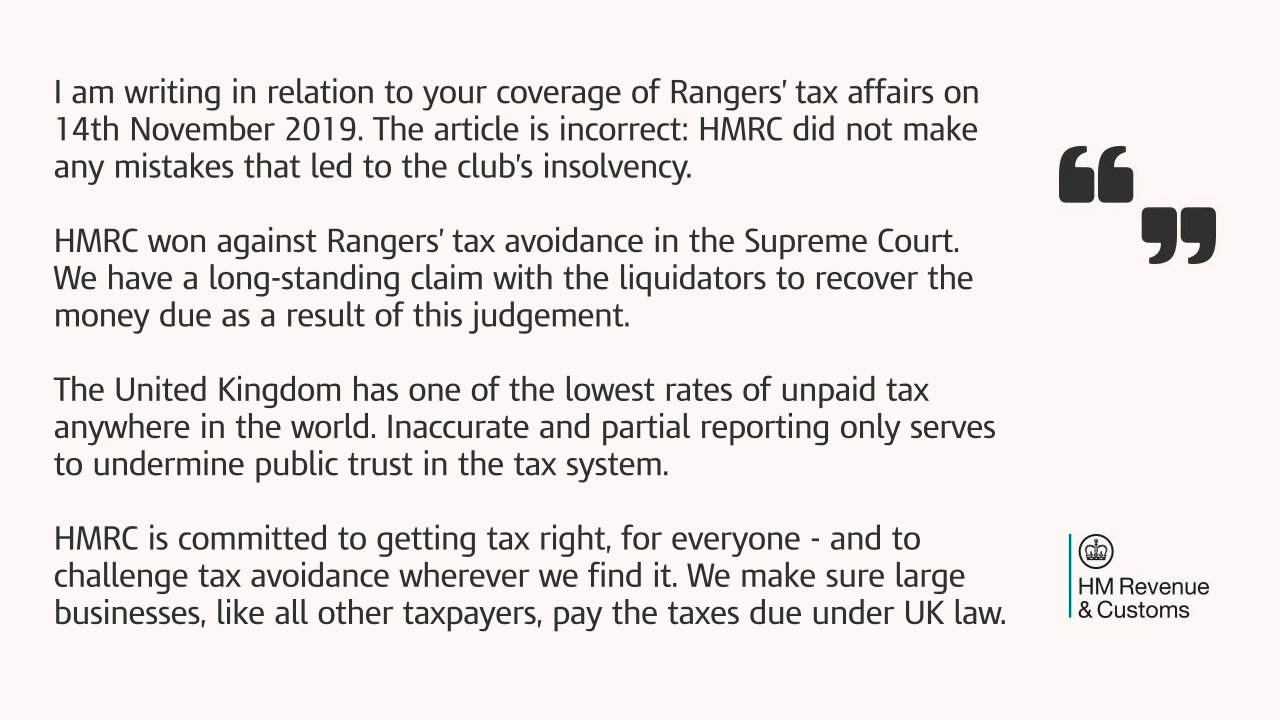 ---
Celtic's Questions to Answer
Hearts accounts have just been published.
They show inprovements in Turnover, now up to over £15m, wages at £8.22m and a wage to turnover ratio at a healthy 55%.
"Benefactors" continue to subsidise the club, this time with £2.25m towards general spending (mainly the continued development of the stadium) and a further £1m towards the playing budget.
FOH donations (currently paying back the loan to Ann Budge) actually fell to £1.32m from £1.44m, probably reflecting a small drop off in pledger numbers in the wake of poor on field performances. It will probably delay the handover of the majority shareholding from Ann Budge to the Foundation of Hearts by a month or two.
Oh and Craig Levein's pay went up from £141k to £178k ……… not exactly good value for money.
---
Celtic's Questions to Answer
LUGOSI 15th November 2019 at 11:32
……. he kind of gave the game away when he opined that one of the lowpoints was when 12 people failed to find Craig Whyte guilty. I did not attend the Trial but I'm sure Spoutpish did.
===================================
I think he only attended the summing up of both sides as he claimed to be a potential witness in the case.
His recollection of events is a bit off in any event as there are 15 people on the jury in Scottish trials.
It was also a majority verdict, but I don't know how many of the 8 men and 7 women on the jury voted either way. It may be that it was 12-3, so perhaps he was right about 12 finding him not guilty. My own recollection was that it was either 10-5 or 9-6.
---
Celtic's Questions to Answer
Just so that no-one is in any doubt.
HMRC Press Office @HMRCpressoffice
As widely reported today and to clarify: HMRC won against Rangers' tax avoidance in the Supreme Court, and did not miscalculate anything
---