Comment on One, er, Two Rules to Rule Them All by easyJambo.
Bogs Dollox 2nd April 2019 at 18:51
So despite my previous posts condemning the violent conduct of Morelos, Kent etc you can still ask me that question. Poor show on your part but for the avoidance of doubt, of course it's not sufficient provocation.
================================
All good, but why then did you post "……………….. we were discussing regarding Brown's unprofessional and unecessarily provocative behaviour. Why take the ball of the spot?"
My interpretation of what you posted was that you considered Brown was being provocative throughout the game and you linked his taking the ball off the spot as being an example of that.
If that is all you meant then I agree with you. However if you view that Brown's antics justified some sort of a response from Rangers players, then I disagree. If any of the officials saw Brown's "provocation" as anything other than minor, then I would expect them to take action.
All I pointed out was that the action of delaying a restart is common-place throughout a game. Celtic had just scored late in the game. It's hardly a surprise that they would do anything thereafter to slow down the game. The reaction was completely disproportionate to Brown's "provocation".
Some players do seek to wind up their opponents and provoke a reaction. It is part of the game, sometimes physical like an "accidental" elbow in the ribs or standing on a player's foot at a set piece, or it can be verbal like slagging off a wife/girlfriend.
There are a couple ways to get even. You can do it physically by perhaps leaving a foot in at the next tackle, or much more effectively by demonstrating that you are a better footballer than them. What you don't do is to retaliate at the time. More often than not you will be one that gets done for it.
easyJambo Also Commented
One, er, Two Rules to Rule Them All
Bogs Dollox 2nd April 2019 at 17:10
Jingso.Jimsie2nd April 2019 at 16:46
All of that is utterly irrelevant to what we were discussing regarding Brown's unprofessional and unecessarily provocative behaviour.
Why take the ball of the spot?
================================
I'm certainly no lover of Scott Brown, but are you suggesting that taking the ball of the spot was in some way sufficient provocation for being punched in the face?
Taking the ball off the spot is simply a means of delaying the restart of the game, just as happens multiple times during every game, either kicking the ball away (even a few yards), picking the ball up – retreating into a defensive position – then releasing it, or standing over the ball to prevent a quick free kick.
I'd guarantee that both sides demonstrated similar behaviour many times during the game, but only one resulted in a punch being thrown.
---
One, er, Two Rules to Rule Them All
A motion in a court case that we haven't been following too closely will be heard by Lady Wolffe next week.
Thursday 4th April Starred Motion Between 9.00am and 10.00am
CA31/17 The Football Co (Scotland) Ltd v Glasgow City Council – MacRoberts LLP – Glasgow City Council (Corporate Services)
This case relates to the damage done to the electronic advertising hoardings at the 2016 cup final. The last hearing that I attended saw GCC apparently agree a settlement figure of £300k. I don't know what this hearing is about, but it could just be a dispute about apportioning legal costs rather than a complaint about non payment.
---
One, er, Two Rules to Rule Them All
JC and I attended a hearing of the Inner House of the Court of Session this morning in the cases of Whitehouse and Clark against Police Scotland and the Lord Advocate, in front of Lord Carloway, the Lord President, and two other judges.
The hearing was ostensibly a procedural one in advance of an appeal by Whitehouse and Clark against Lord Malcolm's ruling from the autumn that the Lord Advocate had immunity in common law from any claims against him for any actions taken or sanctioned by him. The basis of that decision was the precedent set in the case of Hester v MacDonald in 1961.
I would have thought that the prospect of overturning such a decision would be a difficult one, but we found out today that Whitehouse's team had obtained a Crown Office email which dates from before their arrest/indictment, but the contents allegedly suggest that the the Crown knew that there was no evidential basis for the arrest of Whitehouse and Clark. However, just four days later the pair were detained.
Lord Carloway accepted that the document could be used in the appeal hearing. He granted the Lord Advocate six weeks to respond to the disclosure of the "new" email. He went on to confirm that the appeal would be heard on 9 September by five judges, following a submission by Heriot Currie, QC for Whitehouse. Both parties were set a limit of using 10 authorities for the appeal. I understand that precedents from previous UK, US and Canadian cases will be referenced.
The fact that it will be heard by as many as five judges suggests to me that the Court views the matter very seriously in what could be a landmark case, if the precedent set in Hester is to be overturned or set aside.
It was also revealed in court that Whitehouse has initiated a complaint of criminality against unnamed individuals, in addition to his damages claim. I could probably guess that certain police officers will be be identified in the complaint.
The 100,000 documents / emails acquired from Craig Whyte's server were also mentioned, so I guess some may surface in the appeal.
The further these cases run and get into legal arguments and principles they are probably getting less relevant to SFM, but the link to the demise of the Oldco during the administration period and what happened thereafter still remains.
---
Recent Comments by easyJambo
Celtic's Questions to Answer
HMRC's chief exec, Jim Harra has written to The Times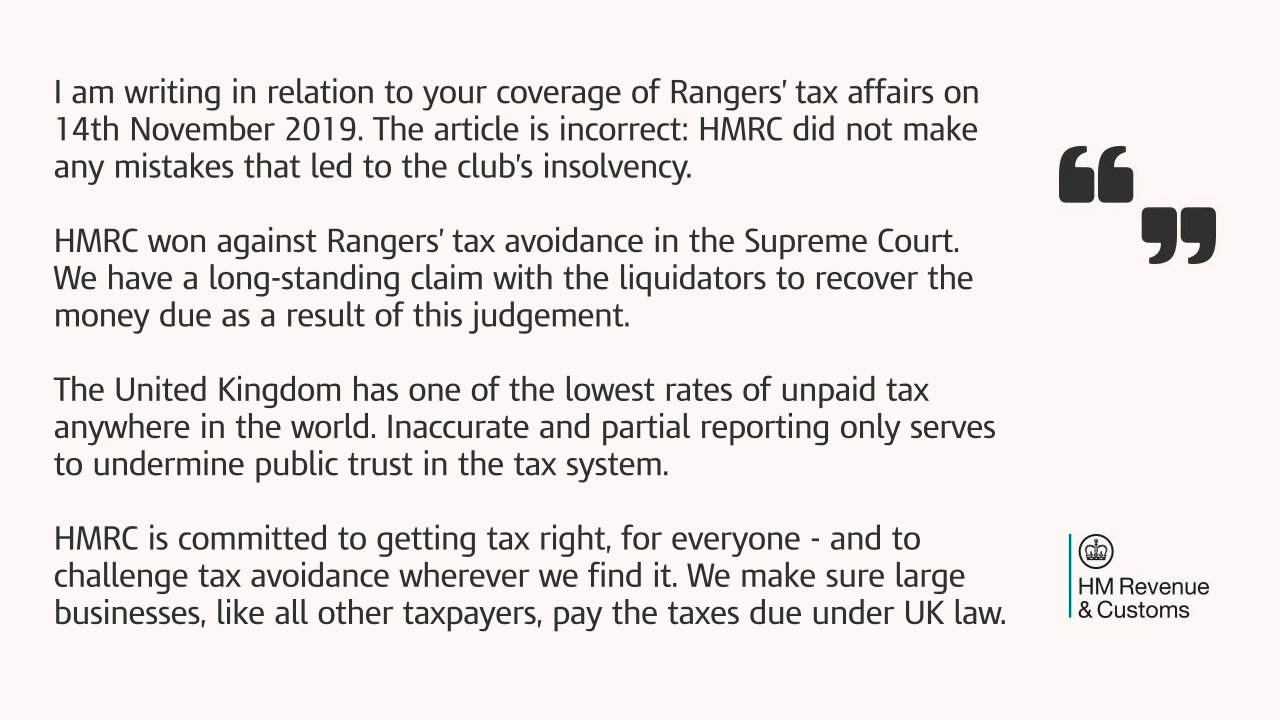 ---
Celtic's Questions to Answer
Hearts accounts have just been published.
They show inprovements in Turnover, now up to over £15m, wages at £8.22m and a wage to turnover ratio at a healthy 55%.
"Benefactors" continue to subsidise the club, this time with £2.25m towards general spending (mainly the continued development of the stadium) and a further £1m towards the playing budget.
FOH donations (currently paying back the loan to Ann Budge) actually fell to £1.32m from £1.44m, probably reflecting a small drop off in pledger numbers in the wake of poor on field performances. It will probably delay the handover of the majority shareholding from Ann Budge to the Foundation of Hearts by a month or two.
Oh and Craig Levein's pay went up from £141k to £178k ……… not exactly good value for money.
---
Celtic's Questions to Answer
LUGOSI 15th November 2019 at 11:32
……. he kind of gave the game away when he opined that one of the lowpoints was when 12 people failed to find Craig Whyte guilty. I did not attend the Trial but I'm sure Spoutpish did.
===================================
I think he only attended the summing up of both sides as he claimed to be a potential witness in the case.
His recollection of events is a bit off in any event as there are 15 people on the jury in Scottish trials.
It was also a majority verdict, but I don't know how many of the 8 men and 7 women on the jury voted either way. It may be that it was 12-3, so perhaps he was right about 12 finding him not guilty. My own recollection was that it was either 10-5 or 9-6.
---
Celtic's Questions to Answer
Just so that no-one is in any doubt.
HMRC Press Office @HMRCpressoffice
As widely reported today and to clarify: HMRC won against Rangers' tax avoidance in the Supreme Court, and did not miscalculate anything
---
Celtic's Questions to Answer
Timtim 14th November 2019 at 20:36
Have just seen Queen's Park have voted to become professional , I am devastated , lost for words. They might as well be liquidated , my club just lost its soul.
=====================================
So Rangers is no longer the newest professional club in the SPFL.
---