Comment on Dear Mr Bankier by easyJambo.
gunnerb 13th December 2018 at 21:59
easyJambo 13th December 2018 at 12:36
Thanks for the update to this EJ. Can you say if the cash confirmer identity is something that will be announced publicly or are we to assume compliance ?
======================================
I'd hope that it would be announced on the website. I seen to recall a statement coming out from the RIFC independent directors (in early April) saying how the offer would be funded, although raising doubts about the funding as it was dependent on a special dividend being paid by Micromega. Perhaps the RIFC directors will provide an update.
The likeliest candidate will be Investec, going by what was said in court, as they have a presence in London and they have sufficient profile to keep the TOP onside.
easyJambo Also Commented
Dear Mr Bankier
Allyjambo 17th December 2018 at 18:30
I'd suggest that if King has complied then we will hear nothing until the next deadline when Laird have to make the offer ie 11 January 2019, and that if he hasn't complied, it'll all depend on how quickly the court care to deal with the announcement which might be delayed by the court breaking up for Xmas holidays.
==================================
The 14 December date only related to the appointments of a legal advisor and a cash confirmer. The 11 January date is only for having the transfer of funds cleared by SA exchange control. The public cash confirmation statement should come shortly after that happens.
King is not required to make an offer until 25 January, and it will be up to four weeks after that before we find out if the offer is unconditional (hits the 50% threshold).
You are correct about the potential for delays in the court processes (if required) over Christmas and New Year.
---
Dear Mr Bankier
Following me looking up the shareholdings in the club regarding the required TOP offer, I happened to look at the latest share price of Sebata Holdings (the new name of Micromega).
The company had been trading at around 10 Rand a share about a year ago. It then dropped following the special dividend that was paid after the NOSA subsidiary was sold off, but has continued to fall in value since then. The latest share price quoted for Sebata Holdings was 3.5 Rand. At that level King's (family trust's) 63% investment in the company has dropped by almost two thirds in the last 12 months, leaving the value of his investment as just £14m at the current exchange rates.
I'm sure that he still has a fair amount of cash stashed away in offshore trusts, but his primary (only?) SA investment has plummeted in value.
He may have earned around £13m from his dividend back in April, but his wealth will have been reduced significantly with the latest share movements, which would put his ability to fund future investment in TRFC, and funding of the TOP offer, in jeopardy.
---
Dear Mr Bankier
There is still no new notice on the RIFC website as to whether or not King has appointed a "cash confirmer" and a "legal advisor". We may not be advised in any event.
I did have a look at the latest shareholding disclosures though. One that caught my eye was that of River & Mercantile. When the offer was first announced, their disclosure on 14 March 2017 indicated that they held 3,523,059 shares (4.32%)
They have subsequently posted two new disclosures dated 5 December 2018 which showed that they had sold 700,000 on 27 November 2018 and 400,000 on 4 December 2018 and that their holding was now down to 2,123,059 (1.47% following the share placing). The difference from 2017 is 1,400,000, so I assume that the other missing 300,000 were sold at an earlier date. The sales were at 19.5p.
I then had a look at the JP Jenkins site which showed a number of trades all at 20p (no dates or other info given)
(400,000, 400,000), (700,000, 700,000), 106,222, 62,222, 100,000, 200,000
The bracketed pairs looked like the matched bargains for the two notified R&M sales. The next two also appear to be linked with the "222" figure. The other 100,000 and 200,000 could be the "missing" R&M 300,000.
Why would R&M sell now. Perhaps they think that King has gerrymandered a situation where he won't need to finalise the offer, because the 50% threshold won't be met. However, it seems they still wanted out so were prepared to sell at 19.5p a share. That would need a matched buyer, so who has bought their shares. There may be a new disclosure issued. If so, then we may find out if it is Club 1872 or one of the other placees.
---
Recent Comments by easyJambo
Celtic's Questions to Answer
HMRC's chief exec, Jim Harra has written to The Times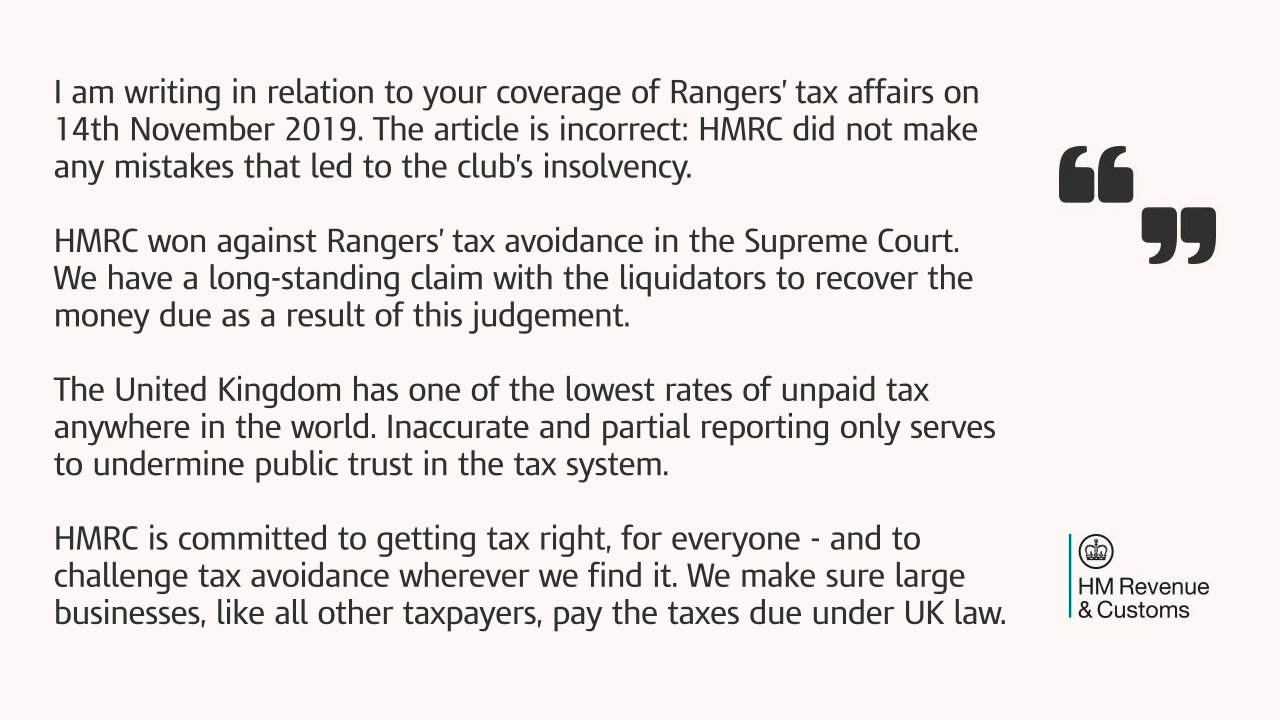 ---
Celtic's Questions to Answer
Hearts accounts have just been published.
They show inprovements in Turnover, now up to over £15m, wages at £8.22m and a wage to turnover ratio at a healthy 55%.
"Benefactors" continue to subsidise the club, this time with £2.25m towards general spending (mainly the continued development of the stadium) and a further £1m towards the playing budget.
FOH donations (currently paying back the loan to Ann Budge) actually fell to £1.32m from £1.44m, probably reflecting a small drop off in pledger numbers in the wake of poor on field performances. It will probably delay the handover of the majority shareholding from Ann Budge to the Foundation of Hearts by a month or two.
Oh and Craig Levein's pay went up from £141k to £178k ……… not exactly good value for money.
---
Celtic's Questions to Answer
LUGOSI 15th November 2019 at 11:32
……. he kind of gave the game away when he opined that one of the lowpoints was when 12 people failed to find Craig Whyte guilty. I did not attend the Trial but I'm sure Spoutpish did.
===================================
I think he only attended the summing up of both sides as he claimed to be a potential witness in the case.
His recollection of events is a bit off in any event as there are 15 people on the jury in Scottish trials.
It was also a majority verdict, but I don't know how many of the 8 men and 7 women on the jury voted either way. It may be that it was 12-3, so perhaps he was right about 12 finding him not guilty. My own recollection was that it was either 10-5 or 9-6.
---
Celtic's Questions to Answer
Just so that no-one is in any doubt.
HMRC Press Office @HMRCpressoffice
As widely reported today and to clarify: HMRC won against Rangers' tax avoidance in the Supreme Court, and did not miscalculate anything
---
Celtic's Questions to Answer
Timtim 14th November 2019 at 20:36
Have just seen Queen's Park have voted to become professional , I am devastated , lost for words. They might as well be liquidated , my club just lost its soul.
=====================================
So Rangers is no longer the newest professional club in the SPFL.
---