Comment on Bad Money? by easyJambo.
John Clark 7th August 2019 at 09:17
easyJambo 7th August 2019 at 00:06
'..then they collectively control 81%, so more than enough to vote through anything they want.#
++++++++++++++
I thought I had seen a reference in something from the TOP to the effect that the concert party could not use the additional shares they were allowed to obtain to increase their voting power or some such. I didn't understand it then ( couldn't really see how they could be denied the voting rights attached to the extra shares) and am probably mistaken. . Any recollection?
================================
That restriction applied to the share issue in September 2018 where the Concert Party were unable to increase their overall share of the company (34.05%) until King made his offer in January. So while new shares were issued to Club 1872 and others, King Park, Letham and Taylor were restricted on how much of their loans could be converted to shares.
That restriction was lifted following King's formal offer in January, but when the second share issue (DFE swap) was proposed, TOP agreed that it could proceed unrestricted if the shareholders other than the CP and Barry Scott, voted through a "whitewash" motion at a general meeting to waive the need for another Rule 9 offer. That motion was passed a a general meeting on 19 June. The CP was then free to convert their remaining loans and by doing so increase their percentage holdings in the company.
easyJambo Also Commented
Bad Money?
Further to the RIFC debt for equity swaps, a total of £24.25m in loans has been converted to shares in the last 11 months (£11.13m in Sep 18, £5.5m in Jun 19 and £14.12m in Aug 19).
I believe that the haste is which the conversions were carried out makes it likely that UEFA had insisted on the debt reduction as conditional to the granting of UEFA licences over the last two seasons. UEFA does not allow for excessive losses to be covered by loans under FFP rules, although equity investments are acceptable.
According to their last accounts, the total of "investor" loans at 30 June 2018 was £23.425m. We also know from official documents that Barry Scott did not convert £45k of his loan (for reasons unknown).
Those figures suggest that RIFC borrowed an additional £870k against a forecast £4m last season. The reduced borrowing may be the result of better than expected revenue from the EL run last season. A further borrowing requirement of £3.6m was forecast for this season.
My figures don't take account of any short term borrowing from Close or elsewhere. However I will be interested to see how my calculations stack up against the accounts when they are published (probably in October).
---
Bad Money?
Cluster One 7th August 2019 at 07:06
easyJambo 7th August 2019 at 00:06
so more than enough to vote through anything they want.
……………….
Could that include a nice pay rise, a renaming of ibrox, selling off some assets?
….
Enough to vote through anything they want.And would i be correct in saying (and happy to be corrected)that club 72 shareholding is now so low that they now can't call an EGM if king and co start to vote through anything they want and the fans start to not like what they (king and co) are voting through.
======================================
With a controlling shareholding they are free to do what they want.
Club 1872 now holds approx 6.4% of RIFC shares. You only need 5% to raise a motion at a GM or AGM. It is the same threshold that the Res12 guys had to meet to get their motion on the agenda at Celtic's AGM.
---
Bad Money?
StevieBC 7th August 2019 at 10:49
eJ, just for absolute clarity…
With this latest confirmation of share ownership, the only external debts for RIFC/TRFC would now be ;
Close Asset Mgmt. [£7M ?]
Trade creditors [suppliers waiting longer to get paid]
Big Mike [final bill tbc]
With potentially other creditors to be crystallized
in the name of Hummel, Elite?
======================================
I have no idea where the £7m liabilty to Close has come from. Some Trade Creditors and Social Taxes are always due, but you should look to see if they are in step with previous years to see if there is a significant change in the balances.
It will be instructive to see how the next set of accounts are presented re the DFE swap. Approx £5.5m of loans were converted to Loan Notes, then shares, prior to the year end (30 June). The remaining £8.5m of "investor" loans were also converted to Loan Notes (possibly before year end), but were only converted to shares after the year end.
The debt position may therefore look somewhat confused in the accounts.
I would expect that there would at least be some mention of the SDI settlement as a post Balance Sheet event (assuming there is a ruling on damages following the 23 September hearing). If not there might be some mention of a contingent liability. Those contingent liabilities may extend to Elite and Hummel if they also decide to to seek redress through the courts.
---
Recent Comments by easyJambo
Celtic's Questions to Answer
Ex Ludo 18th November 2019 at 18:48
JohnClark@11.21
I presume Mr Antonov carried out due diligence into RFC and didn't like what was uncovered although RFC might have dodged a bullet too.
==========================================
Here's a selection of tweets from James Doleman during the Whyte trial about a potential sale of the club that fell through. (I don't know if this was the Antonov proposal)
Murray says he had a buyer in 06/07 but at the last minute "I pulled out of the deal" as "not in best interests of the club"
Murray says about potential buyer "I didn't agree with what they were going to do with the club" no other offers of note
Murray: decision to put club on market taken 06/07. Says had done due diligence on previous potential buyer but pulled out at last minute
Murray says previous buyer was doing a "property play, building flats on what I considered sacred ground, moving stands"
---
Celtic's Questions to Answer
HMRC's chief exec, Jim Harra has written to The Times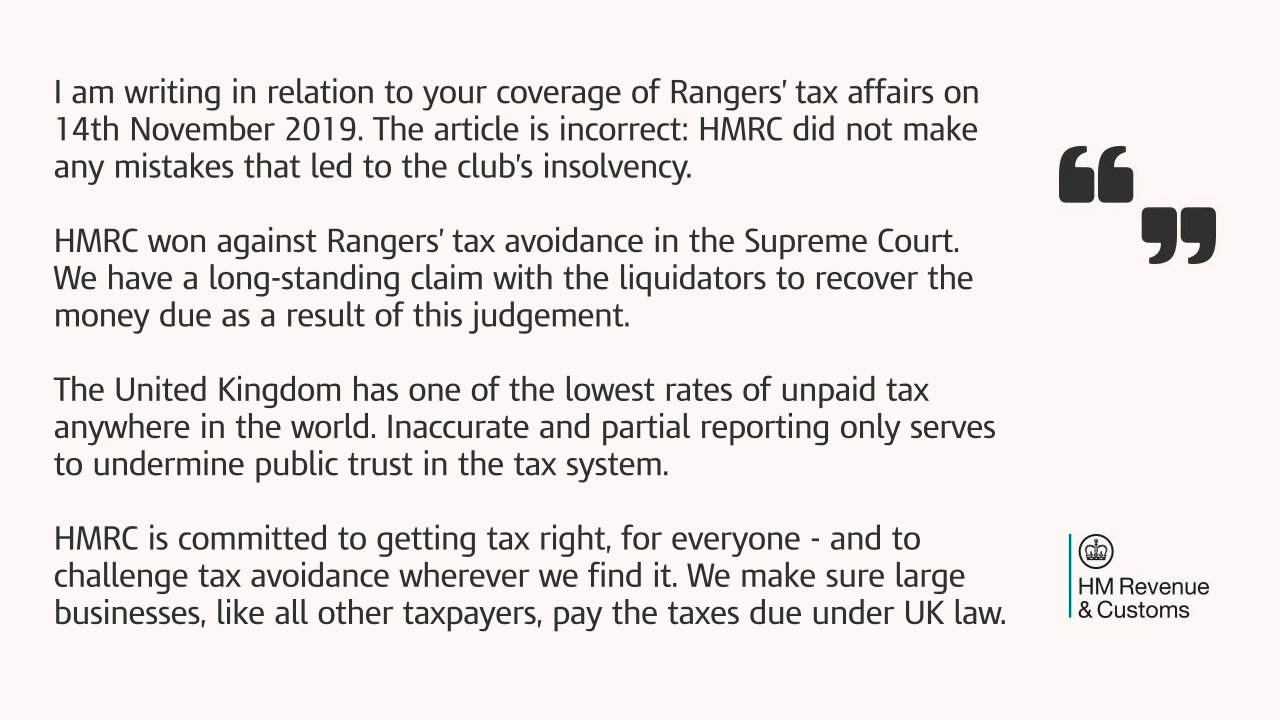 ---
Celtic's Questions to Answer
Hearts accounts have just been published.
They show inprovements in Turnover, now up to over £15m, wages at £8.22m and a wage to turnover ratio at a healthy 55%.
"Benefactors" continue to subsidise the club, this time with £2.25m towards general spending (mainly the continued development of the stadium) and a further £1m towards the playing budget.
FOH donations (currently paying back the loan to Ann Budge) actually fell to £1.32m from £1.44m, probably reflecting a small drop off in pledger numbers in the wake of poor on field performances. It will probably delay the handover of the majority shareholding from Ann Budge to the Foundation of Hearts by a month or two.
Oh and Craig Levein's pay went up from £141k to £178k ……… not exactly good value for money.
---
Celtic's Questions to Answer
LUGOSI 15th November 2019 at 11:32
……. he kind of gave the game away when he opined that one of the lowpoints was when 12 people failed to find Craig Whyte guilty. I did not attend the Trial but I'm sure Spoutpish did.
===================================
I think he only attended the summing up of both sides as he claimed to be a potential witness in the case.
His recollection of events is a bit off in any event as there are 15 people on the jury in Scottish trials.
It was also a majority verdict, but I don't know how many of the 8 men and 7 women on the jury voted either way. It may be that it was 12-3, so perhaps he was right about 12 finding him not guilty. My own recollection was that it was either 10-5 or 9-6.
---
Celtic's Questions to Answer
Just so that no-one is in any doubt.
HMRC Press Office @HMRCpressoffice
As widely reported today and to clarify: HMRC won against Rangers' tax avoidance in the Supreme Court, and did not miscalculate anything
---